The Bands Rakkasah West 2016
Live Music Schedule:
Friday April 13
Ballroom Stage
7-8 - Pangia
Saturday April 14
Ballroom Stage
1:16 - 2 - Al' Azifoon
5:16 - 6 - Pangia
8:16 - 9 - Silk Road Caravan
Cabaret Stage
2 - 3 - Gypsy Flair
7-8 - Tahneen
Sunday April 15
Ballroom Stage
2:15 - 3 - Pangia
5:16 - 6 - Mary Ellen Donald & Friends
Cabaret Stage
2 - 3 Al'Azifoon
Silk Road Caravan
'

Al'Azifoon
Al'Azfoon founded 2005, performs Classical Arabic music and Raqs Sharqi music throughout the SF Bay Area. Al 'Azifoon's musical mission is to promote cross-cultural understanding, respect, and appreciation for Arabic music, dance, and culture through musical performances as well as through community outreach and educational programs.

Vince Delgado's Mid-East Tapestry Band and Guests
Vince Delgado is a master percussionist and composer who has played music for over 67 years. In 1968 he helped establish and became the first director at the Ali Akbar College of Music. As well as being featured on numerous recordings as a percussionist, he has performed around the world with many luminaries including Zakir Hussain, Ali Akbar Khan, Necati Çelik, Halil Karaduman, Mickey Hart, Larry Vuckovich, and Vikku Vinayakaram.
Coralie Russo has been playing Middle Eastern Music on the Oud, an 11-stringed lute, for 25 years. She has studied with master musicians John Belizekjian, Necati Çelik, Georges Lammam and Haig Manookian. She has performed with Jazayer, Coral Rose, Aywah Dance Company and the Gypsy Caravan. She has also studied dance in the Flamenco and Middle Eastern traditions.
Robbie Belgrade is a multi-instrumentalist, composer and music educator. He was born and raised in the San Francisco Bay Area. After initial studies in Western classical music on piano, trumpet and flute, he switched to saxophone and bass clarinet, studying with jazz saxophonist John Handy. He continued his musical studies at the Ali Akbar College of Music, studying vocal music under Ali Akbar Khan and tabla under Zakir Hussain, Alla Rakha and Swapan Chaudhury. He currently studies riqq with Vince Delgado and performs and teaches music in the SF Bay Area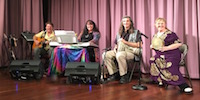 Pangia
Pangia plays exciting and dynamic arrangements of Egyptian, Armenian, Greek, Lebanese, Turkish and Persian dance classics as well as a varying array of original compositions. Very popular with Belly Dancers and Musicians alike. Pangia's music is sold world wide and they have 7 cd's/& MP3s available Be on the look out for more from this diverse and popular band.
Band Members: Pat Olson - Oud, Denise Mannion - Keyboard, tim Bolling - Doumbek and Linda Grondhal - Riq Pangia!
Not your average House band: IN THE HOUSE since 2001!!
Email: pangiaraks@yahoo.com Web: www.PangiaRaks.com Phone: 530-938-2503

Mary Ellen Donald
In her early days she studied classical piano, voice and both folk and flamenco guitar. In 1969 she was introduced to the art of belly dance, which she studied with Jamila Salimpour and Bert Balladine for six years. In 1969 she took up the study of finger cymbals and doumbec (clay or metal lap drum also known as darabouka and tabla). Several years later she added the riqq (Middle Eastern tambourine) and tar (wooden frame drum). Soon Mary Ellen's innate teaching ability came to the fore as she started teaching classes and putting her knowledge of Middle Eastern percussion into written form. In 1976 she self-published Doumbec Delight and Mastering Finger Cymbals, both firsts in their field, followed by Arabic Tambourine in 1985. Mary Ellen produced companion tapes for these books as she realized that students would learn more easily if they could hear her play the examples in the books a number of times. In the late 90s she expanded her educational and artistic materials with two series: Middle Eastern Rhythms and Gems of the Middle East. Mary Ellen has taught workshops and performed with Middle Eastern bands in most of the major cities throughout the US . For over twenty-five years she has maintained a large student body in the SF Bay Area. Mary Ellen takes her fiery percussion performances into elementary schools under the auspices of Young Audiences of the Bay Area and some years ago with Adventures in Music with the San Francisco Symphony. She brings her lecture demonstrations to college as well. Mary Ellen is acclaimed not only as author, instructor and performer, but also as a producer of major Middle Eastern music and dance events over the past twenty-five years. Mary Ellen Donald's musical accomplishments are noteworthy and even more so because she is blind. She plays her drums and lives her life with joy in her heart. She is blessed with a large community of students and friends who love her. Her latest musical passion is that of jazz singing.
Email: me@maryellendonald.com Web:PerformancesAndClasses.htm You Tube: http://youtube.com:80/watch?v=DLVgPNId7Vo