Rakkasah East 2018 Instructors


Aneena
Aneena has been dancing for 30+ years and teaching workshops all across the US for 25+ years. Aneena owns Aneena's Silk Veils, selling 3yd., circular silk veils with the special rolled edge for easier handling. And she has 10+ videos and DVDs on the market including her specialties: Double Veil, Single Veil, Props, and Arms & Hands.

Web: www.dancersofthedesert.shutterfly.com Phone: 415-892-2027



Belladonna
Belladonna is known as the Baroness of Blades, master sword performer and fusion belly dance technician and entertainer.
Belladonna is an ever-evolving artist & teacher. She is a tribal fusion belly dance performer and instructor from Washington DC. She has been a guest performer with international superstars such as Amanda Palmer, Beats Antique, Corvus Corax, the Bellydance Super Stars and the Indigo. She has also had the honor of being a featured instructor at national and international festivals such as Tribal Fest, Art of the Belly, Rakkasah Spring Caravan, Tribal Alchemy, Elevation, Awakening Persephone, Gothla UK, FesTribal de Quebec.
She is the creative director and producer of the annual Raven's Night Soiree', the Vixen Variety Show and co producer of the Monthly DCTribal cafe. She also is the director of three student troupes, BellaTrix, DashKhaleen and Khalasar as well as one half of the dynamic duo Skella!
Email: bellafuse@gmail.com Web: www.BellaFuse.com
Casey Bond
Percussionist Casey Bond is a member of some of the best bands in NYC: Scott Wilson & Efendi, Carmine & Friends, and The Elias Ladino Ensemble. Featured on Scott Wilson & Efendi's latest CD "Live from JeBon" www.cdbaby.com/scottwilson3. Upcoming Festivals where Casey will be performing/teaching include Art of the Belly in Ocean City, MD (March 21-24 2019) and SuperFunDanceCamp in Cold Spring, NY (June 6-9, 2019.
Now in her 10th year teaching weekly doumbek classes on Long Island, her "Doumbek Fundamentals" and "Intermediate Doumbek/Performance" classes meet on Wednesday at 7 & 8pm at the Momentum School of Music, West Islip, NY. Contact Mike or Christina at www.momentumschoolofmusic.com for rates and specials. You can get Casey's latest CD: "Raq Steady Greatest Hits Vol.1" at www.cdbaby.com/raqsteady. Don't forget to friend Casey Bond on Facebook!
Email: DrumNdancegrl@aol.com Web: nofrillspercussion.shutterfly.com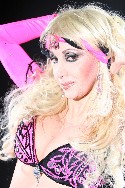 Fahtiem
Fahtiem is a Multi-Award Winning Choreographer, Master Instructor, and International Superstar Performer, highly renowned in the world of Middle Eastern Dance, for her magical style and elegance. Fahtiem has many publication, T.V. and video credits. She is the director and choreographer of the Sultan's Delites. She produces and is the director of an annual, convention and highly acclaimed stage production "Oasis Dance Magic". Fahtiem has produced 5 CDs: in which she does the vocals. Fahtiem's new DVD series "BellyDance Bootcamp with Fahtiem" is shaping up the dance world! Listed in International Who's Who of Professional & Business Women, she is highly recognized in her field. Some of her awards include: International Cultural Diploma of Honor, Woman of the Year . The International Academy of Middle Eastern Dance awards: Dancer of the Year, Entertainer of the Year, Nominated, Choreographer of the Year, Teacher of the Year. Dance Magazine awards: Teacher of the Year, Dancer of the Year. American Academy of Middle Eastern Dance (New York) award: Hall of Fame-Lifetime Achievement, MECDA Hall of Fame.
Fahtiem is in great demand traveling extensively worldwide sharing her vast knowledge and passion for this beautiful art form while maintaining a full teaching schedule in Los Angeles Ca. including collage level dance courses. Fahtiem has been honored to teach and perform globally throughout her career, including Egypt at Ahlan Wa Sahlan Festival,China,UK,Belgium just to name a few.

Email: fahtiem@fahtiem.com Web: www.Fahtiem.com Phone: 626-810-9470


June Seaney
Professional Oriental & Romani Performer –Instructor – Choreographer – Historian
June known primarily as a Turkish Oryantal dancer, performing, teaching and choreographing in this genre but she also performs, teaches and choreographs in Egyptian Raqs Sharqi style, as well as Lebanese style of Middle Eastern dance for over 25 years and continues her studies in these dance genres.
June has traveled to Cairo, Egypt and Istanbul, Turkey to learn more about the dance and culture and had the opportunity of dancing while there.
An instructor of 3 sections of credit classes of Belly Dance in the Physical Education Department at Cornell University since 1995, she has taught students from all over the world. June teaches classes, workshops and performs in all of these genres locally, in New York State and around the Northeast, spreading the joy and beauty that is Oriental Dance.
June has studied with Artemis Mourat, Tayyar Akdeniz, Eva Cernik, Dalia Carella, Sahra Saeeda, Nourhan Sharif, Suzanna Del Vecchio , Amaya, Laurel Victoria Gray and many other knowledgeable and gifted dancers/teachers.
Romani music and dance has been June's love and passion her whole life and she has been performing, teaching and choreographing to the music and dance of Turkish and Russian Romani professionally for 25 years, and Spanish for 18 years staying authentically as possible to the Romani way and to honor the Romani culture. The Romani people are still subjected to multi-racisms that exist today and my hope is through music, dance and lectures, I can bring a better understanding of the Romani people and their diverse and wonderful culture and many contributions they have made to society through my experience with the Roma people.
In 2011 through a grant with the Einaudi Institute at Cornell University, and Gertrude Noden's distance learning Words Into Deeds class, I taught middle school students about the diverse dances of the Romani people and dancing in the Romani way in preparation for Roma Awareness week. A collection of photographs documenting the event were assembled in a book in honor of International Roma Day. In 2012, Dr. Ian Hancock, Linguistics, University of Texas at Austin, Romani Scholar, Director of Romani Archives and Documentation Center, spoke at Cornell University. He was presented with this book and he accepted it for the Romani Archives. Dr. Hancock spoke at Tompkins County Library's event about Romani people and culture and I was invited to perform, along with my dance troupe Danza Romani, for Dr. Hancock and other Romani guests.
In the Spring of 2018 The Tompkins County Library invited me back to give a talk and dance presentation of Romani culture, accompanied by my dance troupe Danza Romani, the presentation was well received in the community.
I have studied Turkish Romani with Artemis Mourat, Tayyar Akdeniz and Romani dancer Reyhan Tuzsuz. Russian Romani with Laurel Victoria Gray, Valentina Shakhovskaya & Yulia Studilova of Drago Ensemble.
I had the fantastic opportunity to take a workshop with the world renowned Romani performer Esma Redzepova, where we learned Macedonian Romani singing and dance, another wonderful Romani performer, Mojca Rakipov Nursel, taught me more Macedonian Romani dance and culture. In 2007 Sani Rifati of Voice of Roma brought Yuri Yunakov and his Romani Wedding Band to my studio to teach a music and dance workshop. I have been blessed with these opportunities to learn Romani culture.
Director of June with Chandani Belly Dance Troupe, her troupe performs Turkish, Egyptian, and Lebanese styles of Oriental dance. June with Chandani Belly Dance Troupe performed for the Turkish Ambassador during his visit to Cornell University in 2004. June with Chandani Belly Dance Troupe also perform at Festivals in New York State and at Rakkasah East in Somerset, NJ.
Director of Danza Romani (Gypsy Dance) Danza Romani is a performance group dedicated to performing as authentically as possible, improvisational Romani dances from Turkey, Spain, Russia and the Balkans with honor and respect to the Romani people. Danza Romani performs at Festivals in New York State and at Rakkasah East in Somerset, NJ

Email: june@twcny.rr.com Web: http://moonlightdancer.com/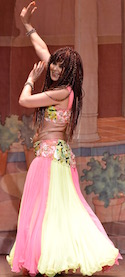 Leila Haddad
Paris (France) based, choreographer, dancer and teacher in Oriental dances, (sharqi, baladi, saidi etc...) and in North African dances (Tunisia, Algeria and Morocco), teaches and performs all over the world in theaters, works on the rehabilitation and recognition of this art form. Classes are given in english, italian, arabic or french.

Email: hadleila@gmail.com Web: www.LeilaHaddad.com Phone: (+33) 06 86 08 68 75


Natica Angilly
I am very excited to share my great enthusiasm for the dance with you. I am also very honored to hold international and national awards for innovation in teaching techniques, dynamic dance workshops, unique dance productions and poetic performance. The re-unions and the anticipation of making more fabulous dance friends at the Rakkasah Festivals and workshops are more than great reasons for joyful service to the spirit of dance artistry.
Often called lots of fun and sometimes even wonderfully transforming, my workshops, books, articles, productions and dancing tambourine DVD's continue to find new and old ways to share in the expression of the dance experience.
I celebrate my long term membership in the always amazing Dancers of the Pharoahs, and my 21 years as artistic director and co-founder of The Dancing Poetry Festivals held annually at the Palace of the Legion of Honor. Our Aonly one in the world@ Poetic Dance Theater Company continues to be requested at international events and is always praiseworthy for their excellence and for their ambassadorship through the arts.
The chance to zagareet, cheer, applaud and join in the excitements of Rakkasah is fabulous fun and I hope you can share the thrills of the dance for all!. Please save a moment to say hello. See you there! Naticaaei@aol.com www.dancingpoetry.com Dancingpoetry@aol.com
Natica and her husband poet Richard Angilly have toured their performance series Athe poet and the dancer@for more than thirty years. Their Afusion@ of poetry together with dance is considered a unique cultural bridge to extend understanding and good will through the universal language of the arts
Natica has created four comprehensive dancing tambourine DVD's: (1) Delightful/Easy Tam. Tech.;
(2) Essentials/Intensive; (3) Sensational, Extraordinary Tambourine Magic; (4) Cultural Tambourine Dancing.
Natica Will be signing her books at Rakkasah East and West - at signing parties! - you are welcome!
She has authored articles and books about dance, such as Dancing Poetry, Classical Facial Expression For Dancers, Dance Passions, Dancing Dynamism, Inspiration and Collaboration, and more -- (available at Rakkasah workshops and festivals & www.dancingpoetry.com)
Email: Naticaaei@aol.com Web: www.dancingpoetry.com


Saqra
Saqra (Seattle) is an international instructor & performer, festival producer, vendor, musician, and researcher. Her award-winning choreographies as both a soloist and director of three different dance troupes has led to a long catalog of instructional DVDs available for home study. Saqra is a powerful dance artist and a master instructor. Her fluidity, grace, and technical skill is highlighted by her friendly demeanor and clear joy of the dance. She did not inherit the diva gene and is often heard to say "the day this stops being fun is the day I quit."
Saqra began her Middle Eastern Dance journey in 1977 and travels extensively

Email: saqra@saqra.net Web: www.Saqra.net Phone: 253-813-8580
Tasha
Tasha has been charming audiences around the world for 40 years with her incredibly graceful, elegant and passionate belly dancing. She's starred as the featured belly dancer at the Trump Taj Mahal in Atlantic City for two years and has graced major restaurants and venues in New York and Philadelphia. Tasha has also performed extensively in New Jersey, New York and Pennsylvania, dancing at the Raleigh Hotel in the Catskills and spending an entire summer performing at the Caesar's Cove Haven in the Poconos. Not one to be confined by boundaries, or even dry land, Tasha has also wowed audiences in Egypt, Germany and even a cruise ship!
Tasha is a fantastic performer who can make even the most complicated of moves seem effortless. She seems to defy the laws of physics by moving as fluidly as quick silver, and is so much a part of the music that it seems to flow from her, not to her.
Tasha is also in great demand as a belly dancer teacher at her studio called Dance Phillpsburg in New Jersey. Her warmth and patience as a teacher keeps students flocking to her.

Email: info@dancephillipsburg.com Web: http://www.dancephillipsburg.com

Vikki Gale
Vikki Gale has been a professional tribal style belly dancer since 2000. She is drawn to tribal style because she enjoys the spontaneity of the dance along with the camaraderie that is shared between dancers. She is currently co-director of Hipnosis, director of two student troupes, owner of Tribal Bellies Dance Studio where she teaches improv tribal and tribal fusion classes, and can be seen dancing regularly at Samarkand Restaurant in Feasterville, PA. She has played a major role in the growth of tribal style belly dance in the area, and is pleased to be able to share her passion for this dance with others.

Email: tribalbellies@gmail.com Web: http://www.tribalbelliesstudio.com