Rakkasah East 2018 Instructors


Aneena
Aneena has been dancing for 30+ years and teaching workshops all across the US for 25+ years. Aneena owns Aneena's Silk Veils, selling 3yd., circular silk veils with the special rolled edge for easier handling. And she has 10+ videos and DVDs on the market including her specialties: Double Veil, Single Veil, Props, and Arms & Hands.

Web: www.dancersofthedesert.shutterfly.com Phone: 415-892-2027



Belladonna
Belladonna is known as the Baroness of Blades, master sword performer and fusion belly dance technician and entertainer.
Belladonna is an ever-evolving artist & teacher. She is a tribal fusion belly dance performer and instructor from Washington DC. She has been a guest performer with international superstars such as Amanda Palmer, Beats Antique, Corvus Corax, the Bellydance Super Stars and the Indigo. She has also had the honor of being a featured instructor at national and international festivals such as Tribal Fest, Art of the Belly, Rakkasah Spring Caravan, Tribal Alchemy, Elevation, Awakening Persephone, Gothla UK, FesTribal de Quebec.
She is the creative director and producer of the annual Raven's Night Soiree', the Vixen Variety Show and co producer of the Monthly DCTribal cafe. She also is the director of three student troupes, BellaTrix, DashKhaleen and Khalasar as well as one half of the dynamic duo Skella!
Email: bellafuse@gmail.com Web: www.BellaFuse.com
Casey Bond
"Bringing the doum to the room!"
Casey's unique teaching method, "no frills percussion" is ideal for beginning drummers and drum-curious dancers. Her workshops for dancers and drummers have helped many dancers transition from CDs to dancing to live music. She is offering beginner and intermediate doumbek classes on Wednesday nights at the Momentum School of Music in West Islip, LI. Contact Michael or Christine at 631-358-4123 for info about classes, special package rates and Casey's student drum group "Raq Steady." www.momentumschoolofmusic.com
Stage/festival credits include: Rakkasah East, Spring Caravan. Brooklyn Academy of Music BAM Cafe, Golden Fest, NEATS (North East American Tribal Style) Camp;Baltimore Rhythm Festival, Cirque Arabesesque, Festival of the East at Adelphi University, BellyRhythm (NJ), Maryland Fairy Festival, Tribal Bonfire, Beltane in the Park, Night of 1,000 Goddesses,The Cloisters Medieval Fair, Le Poisson Rouge, Lafayette Grill, Cafe Figaro, New Deal Cafe (VA), Sahara's and JeBon.
Casey's unique teaching method, "no frills percussion" is ideal for beginning drummers and drum-curious dancers. Workshops for dancers like "Who's Afraid of the Big Bad Drum Solo?" and "Secrets of a Bass Doumbek Player" have helped many dancers transition from CDs to dancing to live music. Her Tuesday night "Rhythms for Dancers and Drummers" class at the Harem Belly Dance Studio in Baldwin LI is solidly into it's seventh year. Contact Aviva Khadara at 516-623-2196 for more info about classes and Casey's student drum group "Raq Steady."
Email: DrumNdancegrl@aol.com Web: nofrillspercussion.shutterfly.com
Ebony
Ebony's playful and sharing spirit flavors both her performances and her approach to teaching. A combination of strong technique, musicality, and innovation are the foundations of her colorful dance presence. Ebony performs both traditional raqs sharqi and her own dynamic fusion belly dance style, which is fueled by her background in both oriental and urban dance genres.
Ebony has taught and performed throughout Asia, Canada, Europe and the United States. She has toured internationally with the world famous Bellydance Superstars and Bellydance Evolution and has performed in and choreographed for Zoe Jakes' House of Tarot. Ebony has performed onstage with Grammy nominated band Thievery Corporation, with electronic musician and performance artist Peaches, and with Turkish/Electronic fusion recording artist Oojami. She performs with the award winning troupe Raqs Sahara, directs fusion troupes Raquettes ShimmyPop and Raqs Caravan Urban, and is a soloist at a variety of engagements including restaurants, private parties, weddings, festivals, concerts and numerous theater performances. Ebony is a featured soloist in the upcoming DVD "America's History of Bellydancers of Color".
Along with her love of dance, Ebony is in love with teaching. A founding instructor of Sahara Dance - Washington DC's Center for Middle Eastern Dance, her students describe her as "approachable" and her classes as "fun" and "challenging". She teaches weekly classes in both traditional and urban fusion formats and has choreographed for Raqs Sahara, Sahara Tribal, Raqs Caravan West, Raqs Caravan East, and is the director of both Raquettes ShimmyPop and Raqs Caravan Urban. Newcomers to belly dance are Ebony's favorite students, as they are a major source of inspiration to her.
Ebony continues her own regular dance studies and has trained with world-renowned master instructors from traditional raqs sharqi and tribal fusion circuits.
.
Email: ebonyebony@gmail.com Web: www.ebonyqualls.com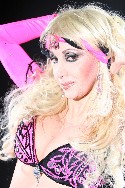 Fahtiem
Fahtiem is a Multi-Award Winning Choreographer, Master Instructor, and International Superstar Performer, highly renowned in the world of Middle Eastern Dance, for her magical style and elegance. Fahtiem has many publication, T.V. and video credits. She is the director and choreographer of the Sultan's Delites. She produces and is the director of an annual, convention and highly acclaimed stage production "Oasis Dance Magic". Fahtiem has produced 5 CDs: in which she does the vocals. Fahtiem's new DVD series "BellyDance Bootcamp with Fahtiem" is shaping up the dance world! Listed in International Who's Who of Professional & Business Women, she is highly recognized in her field. Some of her awards include: International Cultural Diploma of Honor, Woman of the Year . The International Academy of Middle Eastern Dance awards: Dancer of the Year, Entertainer of the Year, Nominated, Choreographer of the Year, Teacher of the Year. Dance Magazine awards: Teacher of the Year, Dancer of the Year. American Academy of Middle Eastern Dance (New York) award: Hall of Fame-Lifetime Achievement, MECDA Hall of Fame.
Fahtiem is in great demand traveling extensively worldwide sharing her vast knowledge and passion for this beautiful art form while maintaining a full teaching schedule in Los Angeles Ca. including collage level dance courses. Fahtiem has been honored to teach and perform globally throughout her career, including Egypt at Ahlan Wa Sahlan Festival,China,UK,Belgium just to name a few.

Email: fahtiem@fahtiem.com Web: www.Fahtiem.com Phone: 626-810-9470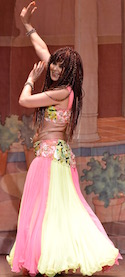 Leila Haddad
Paris (France) based, choreographer, dancer and teacher in Oriental dances, (sharqi, baladi, saidi etc...) and in North African dances (Tunisia, Algeria and Morocco), teaches and performs all over the world in theaters, works on the rehabilitation and recognition of this art form. Classes are given in english, italian, arabic or french.
Email:
hadleila@noos.fr
Web:
www.LeilaHaddad.com
Phone: 011-33-1-43-56-61-64
MOROCCO (Aunt Rocky/ C. Varga Dnicu)
With over 57 years researching/assimilating /performing/lecturing/ teaching classes & master seminars internationally in Near/ Middle Eastern & North African dance, learned "in culture" here & "Over There", Morocco has received numerous awards & accolades in her field & an interview with her was commissioned by the Lincoln Center Dance Collection's Oral History Archives. Nominated as one of America's 100 Dance Treasures, her reference book (in its 5th printing), "You Asked Aunt Rocky: Answers & Advice About Raqs Sharqi & Raqs Shaabi" is already published in German (2013) and Mandarin (2014), & will soon be in Spanish. Her 2nd book, "The Fundamental Movement Vocabulary of Raqs Sharqi (Oriental Dance)", will also be out in Mandarin in September, 2017 & is the basis for this workshop. Morocco organized & for more than 32 years directed & choreographed for her dance company, Morocco & the Casbah Dance Experience, which had it's official debut at Lincoln Center's Out-of-Doors Festival in 1978. She performed & lectured regularly in NYC's Museum of Natural History (1970-98). Her articles have been published internationally since 1965. She's been both a presenter & subject of other's papers at CORD, ICHPER-SD/ UNESCO, CID & SDHS conferences. She filmed & produced 6 research videos/ DVDs that won the Giza Award. Morocco is currently working on the follow up to "You asked Aunt Rocky" & continues to teach & lecture internationally.
(for a more detailed bio, go to: http://www.casbahdance.org/about/bio)
e-mail: web: http://www.casbahdance.org
YouTube: http://www.youtube.com/watch?v=voqHFey-RJM THE BOOK!: http://www.casbahdance.org/shop

Natica Angilly
I am very excited to share my great enthusiasm for the dance with you. I am also very honored to hold international and national awards for innovation in teaching techniques, dynamic dance workshops, unique dance productions and poetic performance. The re-unions and the anticipation of making more fabulous dance friends at the Rakkasah Festivals and workshops are more than great reasons for joyful service to the spirit of dance artistry.
Often called lots of fun and sometimes even wonderfully transforming, my workshops, books, articles, productions and dancing tambourine DVD's continue to find new and old ways to share in the expression of the dance experience.
I celebrate my long term membership in the always amazing Dancers of the Pharoahs, and my 21 years as artistic director and co-founder of The Dancing Poetry Festivals held annually at the Palace of the Legion of Honor. Our Aonly one in the world@ Poetic Dance Theater Company continues to be requested at international events and is always praiseworthy for their excellence and for their ambassadorship through the arts.
The chance to zagareet, cheer, applaud and join in the excitements of Rakkasah is fabulous fun and I hope you can share the thrills of the dance for all!. Please save a moment to say hello. See you there! Naticaaei@aol.com www.dancingpoetry.com Dancingpoetry@aol.com
Natica and her husband poet Richard Angilly have toured their performance series Athe poet and the dancer@for more than thirty years. Their Afusion@ of poetry together with dance is considered a unique cultural bridge to extend understanding and good will through the universal language of the arts
Natica has created four comprehensive dancing tambourine DVD's: (1) Delightful/Easy Tam. Tech.;
(2) Essentials/Intensive; (3) Sensational, Extraordinary Tambourine Magic; (4) Cultural Tambourine Dancing.
Natica Will be signing her books at Rakkasah East and West - at signing parties! - you are welcome!
She has authored articles and books about dance, such as Dancing Poetry, Classical Facial Expression For Dancers, Dance Passions, Dancing Dynamism, Inspiration and Collaboration, and more -- (available at Rakkasah workshops and festivals & www.dancingpoetry.com)
Email: Naticaaei@aol.com Web: www.dancingpoetry.com


Saqra
Saqra (Seattle) is an international instructor & performer, festival producer, vendor, musician, and researcher. Her award-winning choreographies as both a soloist and director of three different dance troupes has led to a long catalog of instructional DVDs available for home study. Saqra is a powerful dance artist and a master instructor. Her fluidity, grace, and technical skill is highlighted by her friendly demeanor and clear joy of the dance. She did not inherit the diva gene and is often heard to say "the day this stops being fun is the day I quit."
Saqra began her Middle Eastern Dance journey in 1977 and travels extensively

Email: saqra@saqra.net Web: www.Saqra.net Phone: 253-813-8580