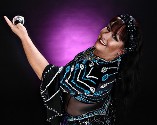 Denise Mannion
Denise is the Director of Troupe Mandala, California, she has danced, taught workshops & played keyboards & zils all over the West Coast, as well as the East coast.

Email: pangiaraks@yahoo.com Web: www.PangiaRaks.com Phone: 530-938-2503



Fatima Al Wahid
Fatima is a prominent Middle Eastern Dance instructor, sponsor and vendor. Born In Africa, Fatima has always had the dance in her heart, being introduced to the dance by her father's native home, the Sudan. After over 20 years in the medical field, Fatima retired and decided to teach, travel and vend. She planted her feet in Sacramento and opened Fatima's Bazaar & Cultural Dance Studio. Fatima travels the world teaching and vending, and manages to spread heartfelt feeling for the dance wherever she goes.
Email: fatima@fatimasbazaar.com Web: www.FatimasBazaar.com Phone: 916-482-3568


Nabeela
Nabeela el Shalimar
has an extensive background in dance. She has been both teaching and performing the dances of the
Middle East
and
North Africa
for over 25 years. As a
Washington
native, Nabeela first learned the dance through the expertise of Leily a.k.a. Lorie Graff of Jehlor fame.

Adding to this, she took classes to learn to teach, not only Raks Sharki, but many of the interrelated folk dances. Madam Shalimar learned to teach Dance Oriental using the Jamila Salimpour method of logic and breakdown. She is a Certified Instructor and teaches beginning through performance level. She is a personal dance coach, workshop instructor, contest judge, promoter, director and more. Nabeela has been instrumental in many different dance efforts. From shows, to lectures, and other creative events Nabeela has worn the hat.

She has taken classes from over 300 different and excellent instructors. Making annual pilgrimages to Rakkasah West for the last 30 years has added to her expertise. She has performed throughout the
U.S.A.
,
Canada
, and
Turkey
. A life student of dance Nabeela continues to take master classes so she can impart only the best to her students. Nabeela shares her extensive knowledge, unique perspective and experience with an easy-going, supportive blend if wit and wisdom. Madam Shalimar finds the dance both empowering and life enhancing. She lives to dance and believes dancing makes life one continuous outstanding adventure to be savored and embraced
.
e-mail:
nabeela45@yahoo.com
Web:
www.uchessa-dahli.com/nabeela.html
Najwa
Coming Soon
Nara
Coming Soon

e-mail: Web:
Teresa Jade
Coming Soon